You know your body is speaking, but don't always understand. You want to release tension, pain, or old habits to be free.
What is somatic? You've engaged somatics before and felt your experience change, probably without realizing it:
The warm embrace of a loved one puts you at ease

The sense of relief or feeling lighter after a good cry

The moment of clarity or energy after good exercise

Noticing your emotions have shifted after yoga class
Tapping into these simple somatic principles, you'll learn specific mind body excercises to create felt change any time, any where.
Somatic coaching combines the best of somatics, dialogue, and yoga to build
new habits,

growth, and true self-care.
What mind body exercises can you expect?
Breathwork, vagus nerve, and body awareness exercises

Orienting and grounding skills to connect with the present

Gestures (small movements that create psychological shifts)

Mindfulness, meditation, guided imagery, or light stretching

Gentle yoga movements and postures for emotional release
After any exercise, we'll talk about what came up, so there is verbal processing too. You'll leave knowing how to integrate the changes that you felt in your body into your daily life.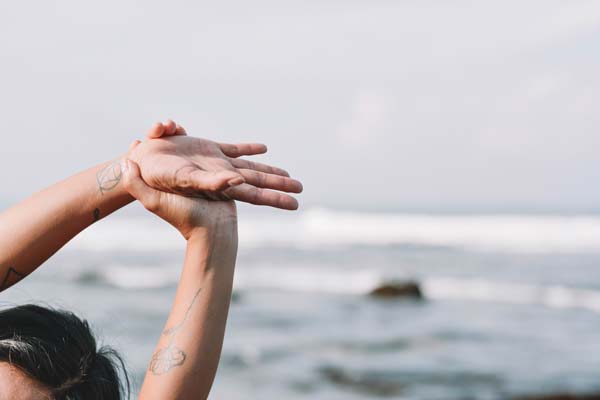 An example of a somatic exercise in session:
We're working on setting boundaries so you can have self-care. Rather than simply talking about ways to say no, I ask you to lift your dominant hand & hold it out in front of you like a stop sign. Try it now if you want. Hold it steady. Next, imagine that the thing you want to say no to is right in front of you. As you imagine it with your hand up, how do you feel in your body? What arises? What parts of you support the boundary or resist it? From here, we can discuss the barriers to saying no that you just felt & sensed more directly.
FAQ – What others have asked about somatic coaching: